Expired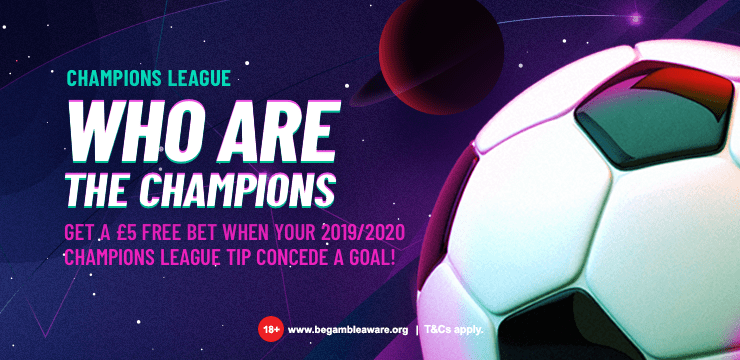 Who wins the Champions League?
Free Bets to be won in the 2019/2020 Champions League knockouts!
We're in to the knock out stages in the 2019/2020 Champions League! The Draw has been made, and we now know who plays who. So, who wins?...
Place a £20+ outright bet on the winner of this year's Champions League and we'll give you a £5 Free Bet after every knock out round match that they concede a goal!
The Last-16 Draw
Borussia Dortmund vs Paris St-Germain
Real Madrid vs Manchester City
Atalanta vs Valencia
Atletico Madrid vs Liverpool
Chelsea vs Bayern Munich
Lyon vs Juventus
Tottenham Hotspur vs RB Leipzig
Napoli vs Barcelona
Note: This offer is exclusive to the first team you back, and is limited to bets placed from Friday 10th January 2020 until the first kick off in the Last-16 on Tuesday 18th February 2020.
Pay-out Date: Qualifying Free Bets for this offer will be credited to eligible accounts before 3pm the following day, with the exception of the Champions League Final where Free Bets will be credited before 3pm on Monday 1st June 2020.
Who wins? Place your bets now!
Please, play responsibly. Learn more at our Responsible Gaming Page
Bet Now!
Terms and Conditions
The start date of this promotion is Friday 10th January 2020 at 12:00pm (UK time).
The end date of this offer is Tuesday 18th February 2020 at 7:59pm (GMT)
This promotional offer applies to the first bet of £20 or more placed per account on the winner of the 2020 Champions League Final on Saturday 30th May 2020.
If you choose to Cash Out this bet, eligibility for all future Free Bets in regards to this offer will be forfeited. Please see "Cash Out" section in our Terms and Conditions for full details of this feature.
Free Bets following relevant matches shall be credited to your account no later than 48 hours after conclusion of the match in question.
Free Bets are limited to 1x £5 Free Bet per match. For example, if the chosen football team concedes 2 goals in their Last-16 First Leg, you will only be eligible for 1x £5 Free Bet.
Free Bets must be used within 7 days once they are credited. Free Bets must be used only on one bet and is only valid for the same sport as the qualifying bet (for example, a Free Bet won on a football match must be wagered/bet on football). Free Bets must be used on events projected to be settled within 30 days.
The Free Bet amount will be deducted from any winnings from your bet placed using your Free Bet and the rest of the winnings will be credited to your account as withdrawable balance. Customers may, if they choose immediately withdraw any winnings deriving from this Free Bet without any further wagering requirements.
Entrants must be over 18 years of age, and must have a valid account with SpaceCasino.
Customers do not have to opt-in to participate in this promotional offer. If you meet the criteria of this promotional offer then the benefits will be awarded to your account automatically but they do not have to be used.
The maximum number of times that this promotion can be taken advantage of is limited to one time per household/IP address.
Fraudulent entries will invalidate the right to benefit from this promotion.
SpaceCasino reserves the right to adjust or end the promotion at any time. In the event of the end to the campaign, all current bets' placed pursuant to this offer shall be honoured.
The promoter of this promotion is Stech Technology UK Limited. All customers are subject to our standard Terms & Conditions.