Expired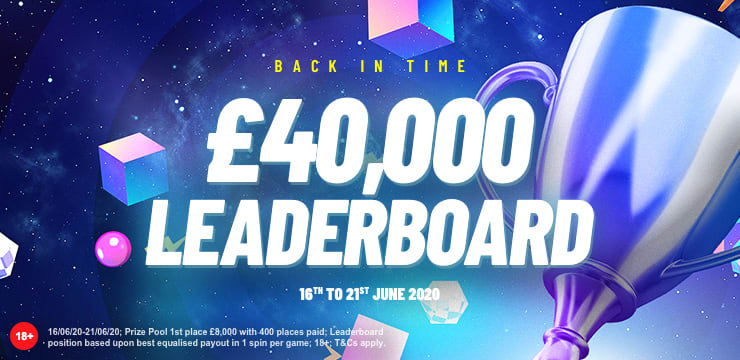 Back In Time £40,000 Leaderboard
We're blasting off back in to Space and giving our players the chance to win a share of £40,000 on 4 selected Yggdrasil games.
From 12am on Tuesday 16th June 2020 until 11:59pm on Sunday 21st June 2020, the biggest coin wins in each game will join the Leaderboard and be one of 400 special winners.
Eligible Games:
With a first prize of £8,000, hit the rocket ignition and head to the stratosphere with SpaceCasino.
Promotion Details
Dates - Tuesday 16th June (12am) to Sunday 21st June (11:59pm)
Biggest Prizes, 1st £8,000; 2nd £4,000; 3rd-4th £2,000
Total Prizes available - 400
Qualification - The Leaderboard is based upon an equalised single win for each of the 4 games.
How is my score calculated?
An equalised score means that your bet size doesn't matter in the leaderboard.
Leaderboard calculations: total win/bet x 100
Please, play responsibly. Learn more at our Responsible Gaming Page
SPIN NOW
Prize Structure
1 £8,000
2 £4,000
3-4 £2,000
5-7 £1,000
8-10 £500
11-50 £100
51-130 £75
131-240 £50
241-400 £25
£40,000 Back In Time Tournament - Terms & Conditions
Back in Time Tournament will run from 12am on Tuesday 16th June until 11:59pm on Sunday 21st June 2020.
Participating games are Arthur's Fortune, Valley of the Gods, Vikings go Wild and Dwarf Mine only.
Following their first win in the participating game, players will be provided with a unique tournament id number ("tournament id"), which will identify them on the leaderboard, which is available in the game's client.
The unique tournament id number ("tournament id") will be highlighted for the players on the leaderboard in the game client to follow their position. Players who are not qualified to leaderboard will not have their position displayed.
Each player's score in the leaderboard is based on the sum of the highest coin wins in any spin in all selected games during the tournament period.
If there are two or more equal scores, the player who scored first will have the higher ranking on the leaderboard.The highest score achieved throughout the campaign period by each player will count for their leaderboard ranking.
Each player's leaderboard position will be refreshed every 60 seconds. In the case of delays or to display up to date leaderboard positions, players will need to reload the game.
Cash prizes from the leaderboard will be credited to the players' accounts after leaderboard is over. Players in prize positions should log out and back in again and then head to one of the 4 promotion games. In this instance, a Treasure Chest will pop up with the corresponding prize.
SpaceCasino reserves the right to void scores, or not pay out a prize, where all or part of the score results from any obvious error, mistake or technical fault (including incorrect game payouts) whether caused by a machine or human error in respect of any of the participating games. We further reserve the right to void scores, or not pay out a prize where, in our opinion, all or part of the score results from cheating or collusion with other players.
Fraudulent entries will invalidate the right to benefit from this promotion.
Entrants must be over 18 years of age, and must have a valid account with SpaceCasino.
SpaceCasino reserves the right to adjust or end the campaign at any time. In the event of the end to the promotion, all current bets' placed pursuant to this offer shall be honoured.
The promoter of this promotion is Stech Technology UK Limited. All customers are subject to our standard Terms & Conditions.