Expired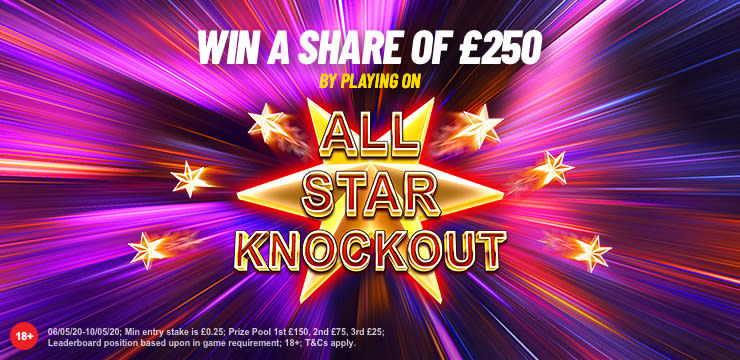 All Star Knockout SpaceMission
Head to our All Star Knockout slot this weekend for a special Bank Holiday weekend SpaceMission!
Collect 25 stars in the fastest time on this amazing game between 3pm (UK time) on Thursday 7th May and 11:59pm on Sunday 10th May 2020 to be in with a chance of taking 1 of the top 3 spots on our leaderboard and to win a share of £250!
Mission Details
Dates – Thursday 7th May (3pm) to Sunday 10th May (11:59pm)
Game - All Star Knockout
Prizes - 1st £150; 2nd £75; 3rd £25
Qualification – Earn 25 stars in the fastest time to qualify for a spot on the Leaderboard.
Reach for the stars this weekend with this knockout game.
Please, play responsibly. Learn more at our Responsible Gaming Page.
SPIN NOW
All Star Knockout Mission - Terms and Conditions
The Mission's leaderboard runs between Thursday, 7th May 2020 3pm and Sunday, 10th May 2020 11:59pm
All players who complete the mission for the first time will be provided with a unique player number. This number is randomly assigned to each player. It is unrelated to and cannot be used to determine a player's username or real name.
The unique player number will be highlighted for the players on the leaderboard in the game client to follow their position.
The minimum bet required to participate is twenty-five Euro cents or currency equivalent.
The number of spins made to complete the mission determines the player's position on the leaderboard. The player who completes the mission in the least number of rounds will finish at position 1 and win the 1st prize.
If there are two or more players who complete the mission with the same number of rounds, the player completing it first will have higher position on the leaderboard.
The player's position is refreshed every sixty (60) seconds.
Bets made with bonus money do not qualify for the Promotion.
Players' position on the leaderboard can change throughout the Promotion.
Mission progress is automatically restarted when players can no longer improve the score. The best score will always be kept.
Mission progress can be restarted manually by the player after twenty-five (25) spins. The restart button can be found in the game client.
Fraudulent entries will invalidate the right to benefit from this promotion.
Entrants must be over 18 years of age, and must have a valid account with SpaceCasino.
SpaceCasino reserves the right to adjust or end the campaign at any time. In the event of the end to the promotion, all current bets' placed pursuant to this offer shall be honoured.
The promoter of this promotion is Stech Technology UK Limited. All customers are subject to our standard Terms & Conditions.