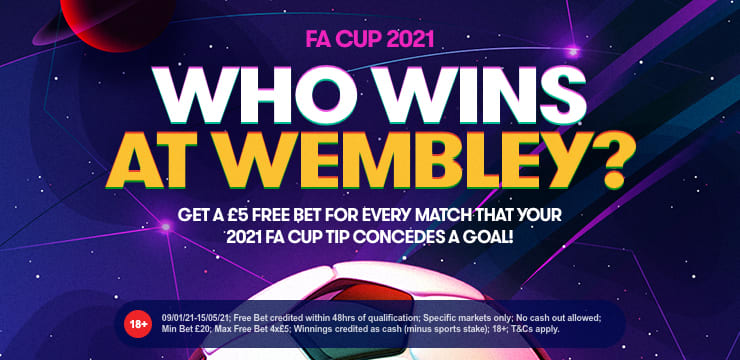 FA Cup Free Bets to be won!
As of the conclusion of the Quarter Finals stage of the 2021 FA Cup competition, qualification for newly placed outright winner bets has now closed.
Get a £5 Free Bet for every match that your 2021 FA Cup tip concedes a goal!
It's the oldest Football Cup Competition in the world, and the FA Cup is back for a 140th season! Who do you think wins?
Place a £20+ outright bet on your winner from the 3rd round (weekend of 9th/10th January 2021) and before the Quarter Final stage (weekend of 20th/21st March 2021), and get a £5 Free Bet every match that they concede a goal en route to the Final.
Key Qualification Criteria / Terms and Conditions
Up to £20 in Free Bets can be earned per team.
Players can bet on as many teams as they wish in this year's FA Cup competition.
Qualification closes before the first Kick Off of the 1st Quarter Final in this year's competition.
Important: If you bet on an outright winner after their 3rd Round match kicks off, then your bet will first be eligible for a Free Bet from the 4th Round onwards. For example, any bets placed on Liverpool after 7:45pm on Friday 8__th January 2021 will not be eligible for a Free Bet should they concede to Aston Villa in their 3__rd Round encounter.
FA Cup Rounds Schedule
3rd Round - 9th/10th January 2021
4th Round - 23rd/24th January 2021
5th Round - 10th/11th February 2021
Quarter Finals - 20th/21st March 2021
Semi Finals - 17th/18th April 2021
Final - 15th May 2021
Who wins? Place your bets now!
Please, play responsibly. Learn more at our Responsible Gaming Page
Bet Now!
Terms and Conditions
The start date of this promotion is Wednesday 6th January 2021.
Qualification closes before the 1st recorded Kick Off in the Quarter Finals of the 2021 FA Cup on the weekend of 20th/21st March 2021.
This promotional offer applies to any bets of £20 or more placed during the set qualification period on the winner of the 2021 English FA Cup on Saturday 15th May 2021.
If you choose to Cash Out this bet, eligibility for all future Free Bets in regards to this offer will be forfeited. Please see "Cash Out" section in our Terms and Conditions for full details of this feature.
Free Bets following relevant matches shall be credited to your account no later than 48 hours after conclusion of the match in question.
Free Bets are limited to 1x £5 Free Bet per match.
The Free Bet must be used within 7 days once they are credited. Free Bet must be used only on one bet.
The Free Bet amount will be deducted from any winnings from your bet placed using your Free Bet and the rest of the winnings will be credited to your account as withdrawable balance. Customers may, if they choose immediately withdraw any winnings deriving from this Free Bet without any further wagering requirements.
The Free Bet can be used on any sports event and market, as long as the bet(s) for the event(s) are projected to be settled within 30 days.
Entrants must be over 18 years of age, and must have a valid account with SpaceCasino.
Customers do not have to opt-in to participate in this promotional offer. If you meet the criteria of this promotional offer then the benefits will be awarded to your account automatically but they do not have to be used.
The maximum number of times that this promotion can be taken advantage of is limited to one time per household/IP address.
Fraudulent entries will invalidate the right to benefit from this promotion.
SpaceCasino reserves the right to adjust or end the promotion at any time. In the event of the end to the campaign, all current bets' placed pursuant to this offer shall be honoured.
The promoter of this promotion is Stech Technology UK Limited. All customers are subject to our standard Terms and Conditions.